Yasui Rotating Jewelry Burnout Furnace 13+
SKU
77-0146
Link Copied to Clipboard
$31,435.00
Brand: Yasui
Model: RBF13+
Power: 220V, 50/60Hz, Single Phase
Temperature (Burnout): Max. 950°C
Flask Capacity: 13 Flasks (Dia. 101mm), 15 Flasks (Dia. 89mm), 19 Flasks (Dia. 76mm)
Dimensions: 915mm (incl. control box) x 710mm x 2001mm (incl. afterburner)
Weight: 210kg (463lbs)
Link Copied to Clipboard
Priced individually
Clean Burnout, Precise Control, Reliable Results

The Yasui Rotating Burnout series features uniform heat transfer, due to the displacement of air created by the rotating shelves, within the flask chamber.

Accurate temperatures ensure a safe burn-out during stone-in-place casting. 

The Variable Power Heating System automatically and precisely maintains set temperatures throughout the cycles, (999 Programs, with unlimited Ramps and Holds). This is essential with today's changing materials that are no longer just injection wax. Today, there are a large range of resins that require different precise temperatures and varying temperature controls to ensure a clean burnout. If resin is not 100% removed from your investment flask, the unburned residue will contaminate your castings and can eat away at the investment cavities.




Comfortable Work Environment & Eco Friendly Design

Yasui's ecological design minimizes and virtually eliminates noxious smells and fumes associated with antiquated gas and table top electric furnaces. The unique After-Burner System that is mounted on top of the RBF 13+, RBF 19 and RBF37+ reaches temperatures above 2000F, which is needed to remove the smoke and smells.
The Yasui Flask Recall System will automatically bring forward the required flask that is typed into the control panel. Having a narrow door design will significantly reduce heat loss while the furnace door is open. The RBF 37+ uses a foot pedal for opening and closing the furnace door.
Yasui's Advanced Insulation System contains the heat associated from burnout cycles and still maintains and exterior surface temperature that is cool to the touch.
The Yasui RBF Furnaces have a built in Dewaxing Feature for removing injection wax prior to ramping up the furnace temperatures.




Fume Neutralizing Afterburner

The Afterburner device neutralizes all fumes, odors and pollution produced during overnight burn-out. The narrow door design creates minimal heat loss.




Minimal Heat Loss from Opening the Door

Unlike wide regular wide-doored furnaces, Yasui RBF machines have narrower doors that greatly mitigate heat loss and temperature drop. 

Variable Power Heating

One burnout cycle can be programmed in 4 steps. Optimum heating power is automatically calculated and applied corresponding to each temperature zone, so that precise temperature control is achieved. Low power is for the beginning steps and higher power for the ending steps. Such a careful control has been developed for preventing flasks from the possible overheat at each step.

Platinum Flask

The RBF13+ can reach temperature up to 950 centigrade and is ideal for casters who cast both gold & platinum.

Easy-To-Access Control Panel

Various information is obtained from the control panel, such as present step no., present burning out temperature inside the furnace etc.

Programable Timer

Burnout cycle will perfectly proceed by the preset time. For instance, if you plan to start CASTING AT 9:00 AM next day, flasks would be ready at 9:00 AM by presetting time today. Maximum preset time is 9 days 23 hours 50 minutes.

Program Memory

Unlimited burnout cycles can be memorized on the controller.

Overheat Protection Device Safety For Stones In Flask

The value of precious stones inside the furnace is beyond comparison with the value of the furnace. RBF13+'s overheat protection device on the front panel can prevent the precious stones safely from overheating. Should the temperature exceed the setting value, the power is immediately shut off.

Measures For Power Failure

On power failure during burnout cycle time under automatic burnout mode, present burnout STEP is memorized. And when power is recovered, the burnout cycle can be automatically restored and started from the step number where power failure occurred.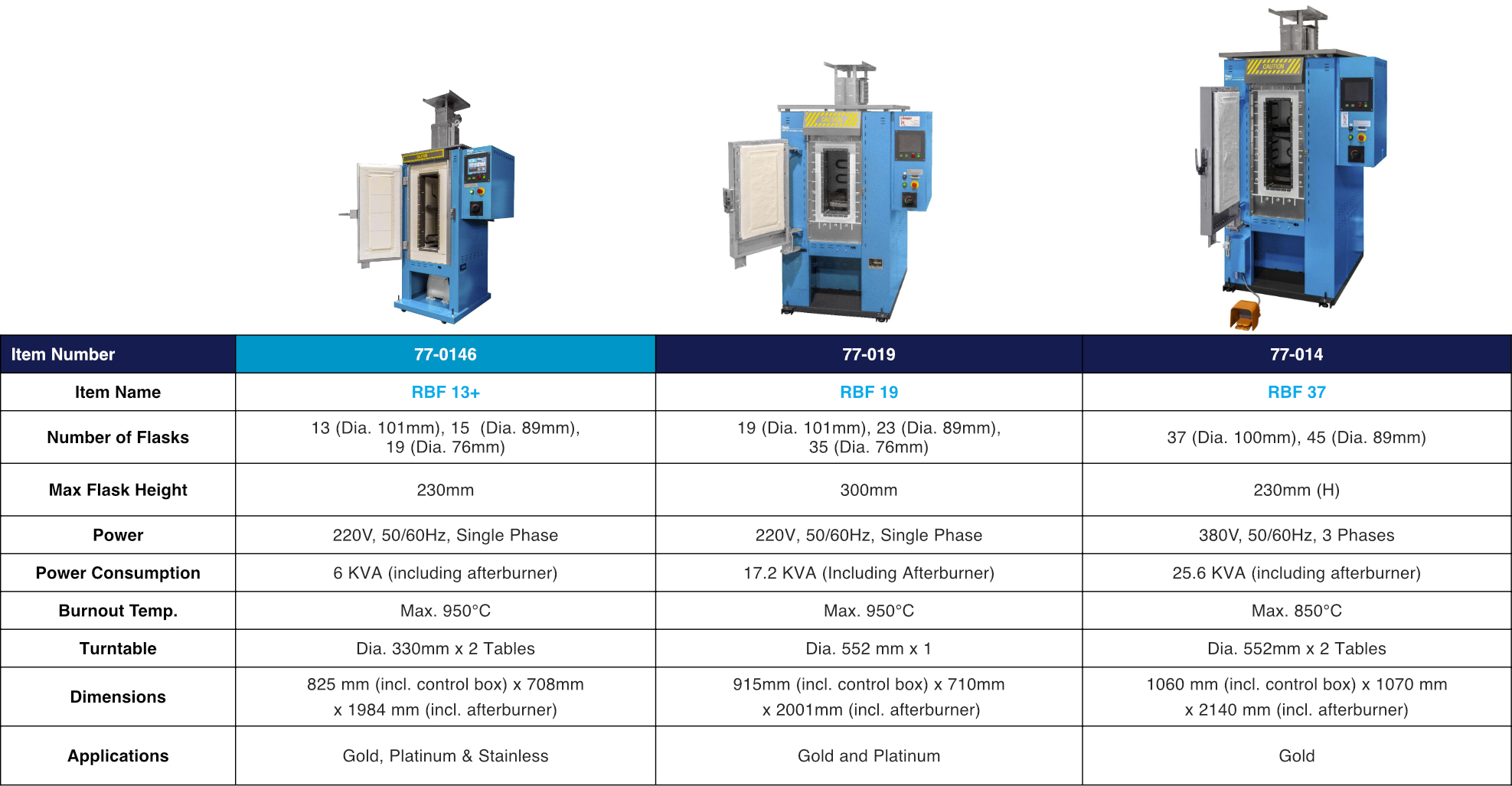 | | |
| --- | --- |
| OEM Parts | No |
| Packing Qty | Priced individually |