Indutherm Au Atomization Plant (Au 500, Au 1000, Au 3000, Au 12000)
SKU
indutherm-atomization
Link Copied to Clipboard
$0.00
Model: Au 500
Brand: Indutherm
Crucible Volume in CCM : 245-386
Brand : Indutherm
Crucible Volume in CCM : 1,500
Brand : Indutherm
Crucible Volume in CCM : 3,400
Brand : Indutherm
Crucible Volume in CCM : 12,000
Link Copied to Clipboard
Priced individually
For fast and economic production of small batches of metal powder...
The Indutherm Atomization plants have been particularly designed for the flexible and economic production of small-scale metal powder batches. Traditional large-scale production plants cannot provide this economic advantage.  Frequently changing alloys in production require high cleaning efforts to avoid cross-contamination. Particularly in R&D or precious metal powder applications small amounts of various kinds of powder are frequently required, often also new types of alloy powder not available on the market. Especially fast developing applications like SLM and MIM require more and more specialized metal powder.
Powder particle size for every request...
The Indutherm Atomizer is generally suitable for gas atomization of a wide spectrum of alloys; such as for example those based on Cu, Au, Ag, or Sn. The inductive heating takes place in graphite crucibles with volumes from 0.3 to 12 I. The AU machines offer the possibility of oxidization-free processing in the closed-chamber machine by means of protective gas features. To obtain specific metal powder characteristics, the AU machines work with different easy-to-change nozzle systems: free fall and close coupled atomization nozzles.
At a glance: particular advantages of the atomizer AU series...
- Very simple handling via LCD-Display and neatly arranged control panel.
- Flexible and economic production of small scale / high-value metal powder batches, which is not feasible on existing, larger plants.
- Easy-to-clean concept: minimum metal loss and cross-contamination.
- High powder over a particularly wide particle size range via flexible, modular usage of different atomization nozzles and hot gas atomization.
- Particularly high process stability due to optimized nozzle systems.
- Anti-oxidation features.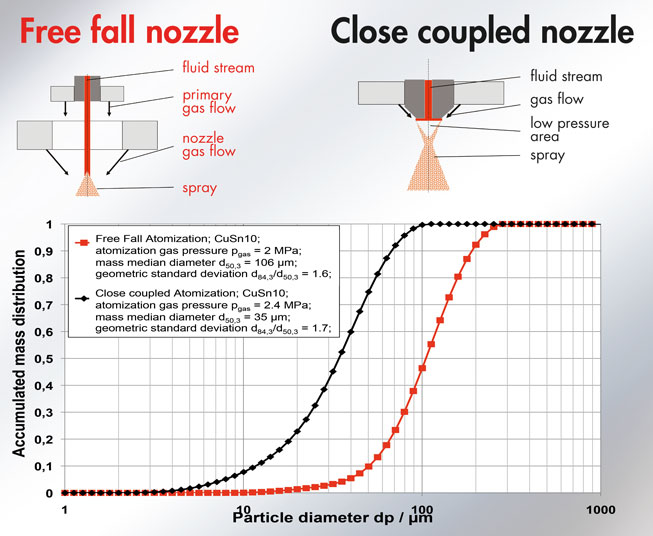 | | | | | |
| --- | --- | --- | --- | --- |
|   | AU 500 | AU 1000 | AU 3000 | AU 12000 |
|   Crucible volume in ccm | 245-386 | 1,500 | 3,400 | 12,000 |
|   Volume in kg Au 18ct | 3.6-5.7 | 22.0 | 51.0 | 180.0 |
|   Generator kw (400 V) | 10 | 22 | 30 | 40 |
| | |
| --- | --- |
| Packing Qty | Priced individually |
| OEM Parts | Yes |