Yasui EMP - Electromagnetic Polishing Machine
SKU
82-281
Link Copied to Clipboard
$28,995.00
Container Dimensions: 6.9" x 14" h(175mm x 355mm)
Overall Dimensions: 25.6" x 29.1" x 36.2" (650mm x 740mm x 920mm)
Cycle Time: 8-15 minutes
Accessories: Large bowl, Japanese pins, Concentrated soap
Weight: 485lbs
Gold Capacity: 2 kg
Country of Origin: Japan
Voltage: 220V 3ph
Link Copied to Clipboard
Priced individually
The New Yasui EMP Electromagnetic Tumbler System uses Electro-Magnetic Propulsion to reduce the finishing time of rough casted pieces or trees.
The main difference between EMP technology and traditional rotational energy found commonly with magnetic tumblers is EMP technology utilizes concentrated electromagnetism and propulsion to thoroughly and uniformly mix the stainless steel media and parts in a vertical motion at an accelerated speed.
Whereas rotational energy, commonly found with today's magnetic tumblers only occurs at the base of the barrel at a significantly reduced speed.
Main Benefits:
Produce a high polish in 8 - 15 minutes compared to Traditional methods from 8 to 24 hours.
Burnishing all metal surfaces, including stainless steel and chrome cobalt to a high polish.
The ability to reach and polish undercuts, recessed areas, and all small spaces.
Casters can now load full casted trees into the processing chamber to remove fire scale, investment powder, and oxidation from the metal surfaces, which allows the metal to be re-casted and reduce refining costs.
Features a 99-minute timer with automatic forward and reverse motion.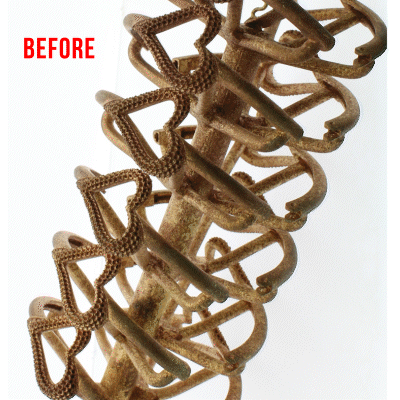 8 to 15 Minute Cycle
Additional Highlights:
✔ Reduces time and cost (8 -15 minutes) -> Improves Productivity
✔ Hammering the surface by pin media  -> Makes the surface strong
✔ Can polish & clean inside of cylinder design & small space
✔ Minimizes material 'Loss' from Hand‐Polishing
✔ Helps to clean the investment powder on the casting
✔ Helps to remove the oxidized casting surface
✔ No POISON -> can switch from Electro‐polishing with cyanide
| | |
| --- | --- |
| Packing Qty | Priced individually |