Indutherm MC100V Casting Machine with Vibration Technology
SKU
78-4500
Link Copied to Clipboard
$0.00
Brand: Indutherm
Model: MC100V
Power: 8.5 kW / 3 x 400 V (transformer for 220V is available)
Temperature Max: 2000ºC
Training: Technical Training & After Sales Support Included
Casting Volume: 450g Au 18 ct & 250g Steel / 500g Pt
For Use of Flasks: 80/100 mm x 120 mm h
Dimensions: 20"D x 20"W x 28"H
Machine Weight: 120 lbs
Country of Origin: Germany
Link Copied to Clipboard
Priced individually
Compact High-Performance Casting Machines
The high demand for our MC 15+ and VTC 200 V high-temperature tilting casting machines motivated us to develop the MC 100 V: a number of users wanted the compactness of the MC 15+, but needed greater capacity " not so much, however, as the VTC 200 V offers. We have filled this gap with the new MC 100 V, by developing a small, hi-tech machine that combines the best of both models: it builds on the space-saving design and ingenious pivoting mechanism of the small MC 15+, while offering a wide range of the highlights from the much larger VTC machine. The MC 100 V is equipped with a latest-generation induction generator, developed especially for this housing design and with high operating efficiency. Convenient, high precision control is provided via a new operating system, with an LCD display, full-text display, and program control. For the first time, our multi-award winning and patent-pending vibration system are now available in a compact casting machine. Using vibration when casting ensures better form filling, creating casts with greater, more consistent densities, higher elasticity, and greatly reduced porosity. Vibration technology is a compelling alternative to the frequently used and relatively delicate centrifugal systems, especially when casting platinum or palladium.
High-Quality Machines, High-Quality Results

Top-quality form filling using overpressure of up to 2 bars (casting under vacuum also possible). The machine can be used to cast rolling blanks for platinum processing in copper molds.

Compact Size for Compact Projects

Measuring under two feet in all dimensions and weighing just 60 lbs, this casting machine is perfect for tight spaces and an economical option for small to medium projects. An excellent solution for studios and goldsmith's workshop with limited space.

Easy, Fast, and Efficient

Equipped with a High-quality LCD display for easy programming. Quick shots by use of standard investment material in less than 4 hours, on "speed" investment material in less than 2 hours from wax piece to casting. The efficient use of consumable materials leads to cost savings over time.

Vacuum-Controlled Melting Atmosphere

Melting under vacuum or inert gas to prevent oxidation. Thorough through-mixing of molten metals using low-frequency induction tuning. 3.5 kW induction generator for quickly reaching the melting temperature.

Versatile Uses

Precise thermocouple for accurate temperature measurement of gold & silver. Optical pyrometer for stainless & platinum.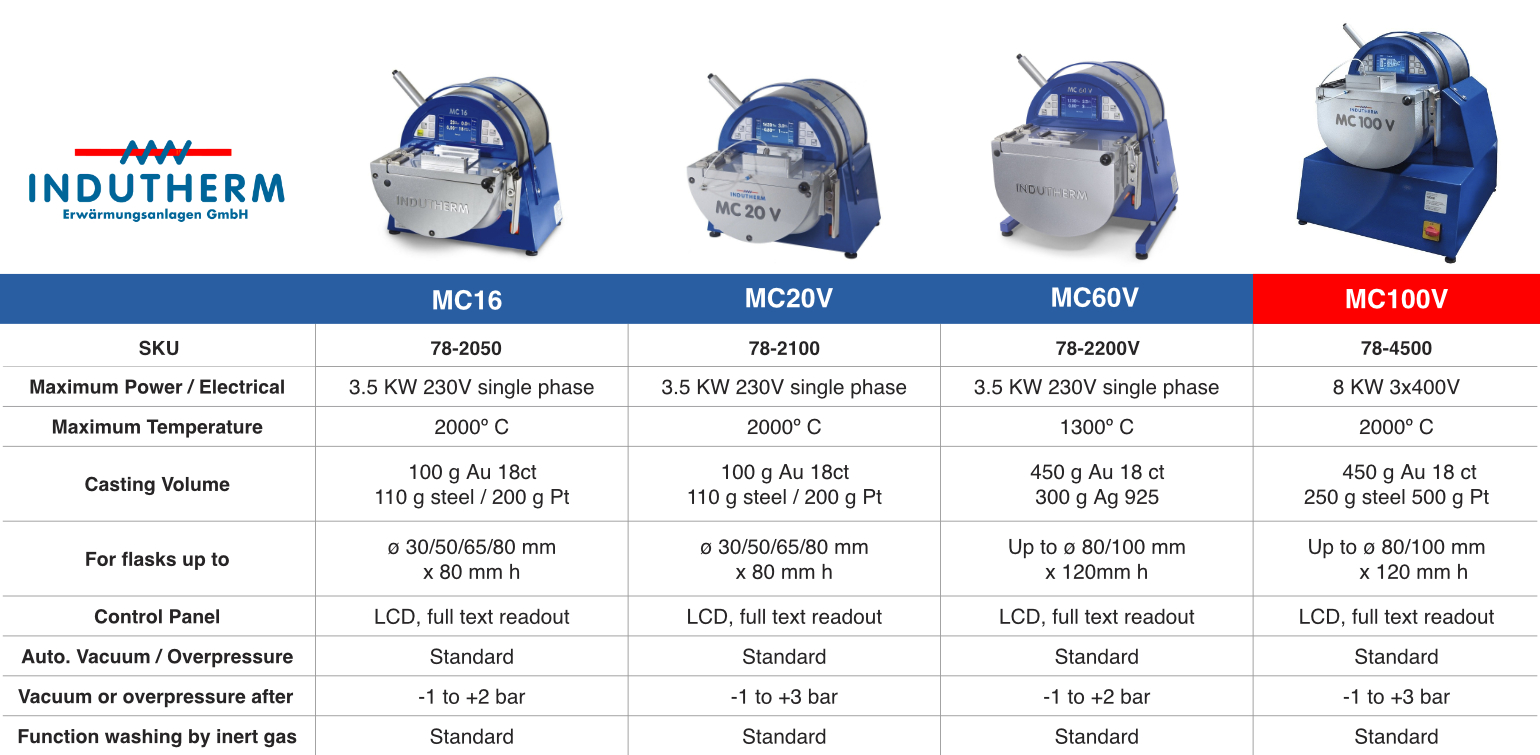 | | |
| --- | --- |
| Packing Qty | Priced individually |
| OEM Parts | Yes |